Z-Wave home automation technology
Make Your Home Smart through an Intelligent and Intangible Wireless Wave!
Consider a motion detector that fails to work well and therefore lights up to activate a security camera that signals the home security system to notify you via an SMS to your smartphone. Isn't this the need of an hour? Certainly yes! This is why you need Z-Wave, a wireless technology for home automation. Z-Wave is a novel wireless communication standard for running a home with an automation system. With Z-Wave, any simple home can go smart easily, quickly, and affordably, irrespective of whether it is new or a renovated.
Today, Z-Wave is a widely-accepted interoperable technology that makes wireless home control practical and simple for any household. A householder can choose from over 1000 compatible products manufactured by the top brands in their industries such as Security and Safety, Lighting, Assisted Living, Energy Saving, Climate Control, and Heating. Z-Wave enabled products operate on a common platform of communication as well as interoperate with each other, irrespective of the purpose, type, and brand. This is possible because the manufacturers tend to deploy genuine Z-Wave chips in their Z-Wave enabled products for proper connection with Z-Wave networks.
Each of these certified products has passed strict conformance test to meet the Z-Wave standard for performance and interoperability with other Z-Wave controls and gadgets. Therefore, all Z-Wave products ensure reliability along with two-way control communication across the residence, without demanding any wiring or complex setup.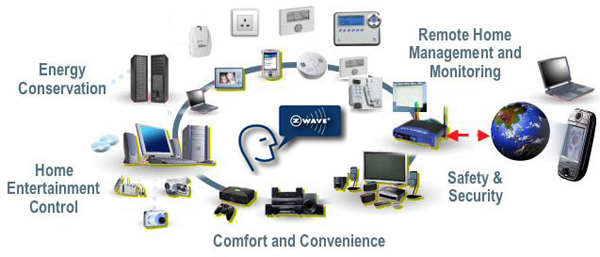 Z-Wave: What to Expect
Z-Wave is a mesh networking technology that employs a wireless radio frequency (RF) standard for allowing the home devices to communicate. All Z-Wave products are designed with affordable and efficient RF transceiver chips of the same family due to which they are able to communicate through a single, highly reliable protocol. Listed below are the uniquely interesting features that this technology embeds – Z-Wave devices:
Play the role of signal repeaters for re-sending signals to more devices.
Never use the same frequency like other traditional wireless devices such as wireless phones.
Use the frequency as per the country bandwidth specifications, for instance, 908.42 MHz in United States. This means there is no interference with other household devices.
Operate with a higher signal range, which is determined by several factors, including the number of walls in the area. Usually, the standard ranges are 100m in open air and 30m indoors.
Allow for increasing their normal range by adding extra Z-Wave devices. Because Z-Wave gadgets are repeaters, the passing signal from one to another device whenever repeated gains another 30 meters. You can use up to three more gadgets (hops) to increase the range before the signal gets terminated by the protocol.
Employs innovative mesh networking for routing two-way signals of commands from one device to another, passing around any hurdle or radio dead spots in any area of the home. Therefore, you can expect a reliable coverage and peace of mind.
Z-Wave Products: The Preferred Automation Technology Systems
The standardized technology has been developed for automating residential and light applications such as thermostats, lighting control, security systems, blinds, access control systems, remote controls, Internet gateways, and PC apps. Its products truly make sense for today's houses, thus, rendering it the preferred technology for wireless control.
Lighting: A single touch can control any of your interior or exterior light sources such as bulbs and tubes, through the automated programming and custom ambient setup.
Safety & Security: A Z-Wave control can activate other Z-Wave gadgets to send you a notification when the security systems falter.
Appliance Control: A Z-Wave system can facilitate you to add appliances in kitchen, garden, laundry, and room to a home network easily and quickly for controlling them remotely.
Home Entertainment: You can effortlessly control several systems such as PCs and media players in your home through floors and walls.
HVAC Control: You can automate air conditioning, ventilation, and heating systems to enjoy maximum savings as well as comfort.
Windows & Coverings: You can run motorized blinds and coverings through a remote control or through Z-Wave device commands.
It is clear that Z-Wave products enable several devices to communicate simultaneously for ensuring smooth operation and security even if you are away from these devices. Unlike traditional home control systems that need significant up-front investment, Z-Wave makes the same approach more affordable and simpler via its modular and scalar technology. Households can add little or as much control as they like to their home and tap the power Z-Wave with every changing need or time!
When buying a device for your Z-Wave mesh network, just make sure that the product is Z-Wave certified. This is because there are several manufacturers offering products belonging to all home product categories.
How Do You Benefit
Home automation with Z-Wave is where technology, peace of mind, and comfort converge to build a dynamic and synced wireless network. In order to have instant control over all home devices and appliances, you can order how, when, and why an appliance needs to react. You can also specify the schedule to automate their working, which ensures you the following benefits:
Convenience: Of controlling your home from any location or even from an area in another region.
Savings: Z-Wave home automation works effectively to save much money on your energy bills as well as to save on device purchases due to low-cost chips.
Security: The controls of this wireless technology are always guarding your home, thus, ensuring security through surveillance. Right from a camera's monitoring eye to a water sensor alerting you of a probable leak, the Z-Wave automated security system maintains your home under surveillance for you to take quick steps instantly for dealing with an unwanted situation.
Fun: Making most tasks automated at home is really fun. It is just getting involved by specifying your own settings and preferences and sitting back calmly without any worries. Although the technology seems to be a bit complex, it is actually user friendly as well as versatile.
What to Expect from Us?
We recognize that Z-Wave is the most widely admired radio frequency standard for remotely controlling the home devices, perhaps because of its strong handling capabilities, interoperability, and wider coverage to ensure a rich security and entertainment experience. Therefore, we maintain a big and diverse Z-Wave warehouse to offer you all the existing products, new releases, and free as well as full Z-Wave technical support. In short, we are your one-stop Z-Wave hub to make your home smart affordably and intelligently.