The convenience of having a smart home is unmatched. The functionality and practicability arise from the automation capabilities of smart home devices. At the intersection of convenience and automation are Z-wave – a wireless communication protocol that powers many smart home devices – and Google Home.
Z-Wave
We can liken Z-wave technology to Wi-Fi or Bluetooth, but it's more secure, doesn't experience as many disconnections or signal interferences as its older brothers, and promotes compatibility – all Z-wave devices are compatible with each other. The only aspect that Z-wave, and by extension, the products, lack is the voice-activated-commands capability, and this is where Google Home comes into play.
Google Home
Google Home, which has since been renamed to Google Nest, is a smart speaker developed as Google Assistant's carrier. The secondary reason it was created was to compete with Amazon Echo. Google Assistant is the eponymous tech giant's virtual helper that works when a user issues a voice command. It's always listening but can only be activated using specific commands. Through these commands, you can use Google Home to control your smart home products.
Can I use Z-wave devices with Google Home?
So, at this point, you're probably asking, "Can I use Z-wave devices with Google Home?" The simple answer is yes, at least ultimately. Right of the bat, though, you can't – you can't use Google Home to control Z-wave devices directly. But how will you get to use Z-wave devices with Google Home? Well, read on and find out.
Google Home and Z-wave Integration
Z-Wave Smart Hub
Since you can't use Z-wave products with Google Home/Google Nest directly, you need to buy a smart hub first. A smart hub facilitates communication among all smart home products, your phone, router, and Google Home. Through it, you can even access your home from anywhere around the world using your phone.
While there are many smart hubs available in the market, you should note that some don't support Z-wave. As such, you should always be on the look-out. With that in mind, some of the best Z-wave smart hubs you can purchase – in no particular order – include:
Wink Hub
Hubitat Elevation
Control4
Abode Iota
Abode Essentials Gateway
Samsung's SmartThings
Samsung's Connect Home
The inclusion of Connect Home isn't by mistake. While it's primarily a Wi-Fi system – and you may know it as such – it has SmartThings built in. It's worth pointing out that SmartThings is the best Z-wave smart hub available in the market.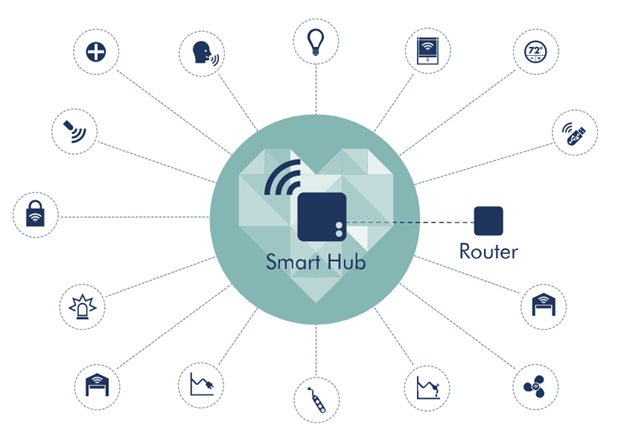 Z-Wave Devices
Did you know that most Z-wave devices are generic? This means that unlike Google Home/Nest or Ring, which have their specific applications, Z-wave devices rely on smart hubs for their functionality. To operate them, you either need the smart hub's application, your phone, or Google Home.
The genericity of the Z-wave technology and devices is the reason why in any smart home – even yours – you're are more than likely to find multiple devices from different manufacturers. This fact underscores one of the benefits of Z-wave: that it facilitates communication between devices from different makers.
Also, there are more than 3000 Z-wave devices from which you can choose. These Z-wave products, be they light bulbs, locks, thermostats, or sensors, don't have Wi-Fi. Instead, they're linked together, forming a mesh network wherein communication is via Z-wave frequencies, which are between 868 and 916MHz, depending on location.
Smart hubs, on the other hand, are hybrid devices. They support both Z-wave and Wi-Fi. The latter makes it possible to link devices that don't support Z-wave, e.g., Google Home, to Z-wave devices.
Integration
Connecting Google Home to a smart hub provides a channel that enables you to use Z-wave devices with Google Home. The communication between Z-wave products and the smart hub is solely via the Z-wave network protocol, whereas the smart hub and Google Home communicate via Wi-Fi signals.
Once you've linked the smart hub, Z-wave devices, and Google Home/Nest together, you can issue voice commands through Google Home. You can switch light bulbs on and off; you can lock or unlock the house, or you can change the temperature at which the thermostat turns the HVAC on or off. And you can do this in the comfort of your bed or sofa, without moving an inch. This convenience is unmatched, don't you think? Living life as though you are vacationing. Pure bliss!
For the commands to be successful, though, you should follow some voice activation guidelines. For instance, to let Google Home know that you're issuing it with instruction, you have to use the phrase "Okay Google…"
All Ears
Google Home/Nest is usually 'all ears' – always listening to conversations. However, we must point out that Google's privacy policies state that it doesn't record what it hears. It listens to conversations waiting to hear "Okay Google" or "Hey Google" as it has been programmed to only respond to these wake words.
Google Assistant
Being a Google Assistant carrier means that connecting your Z-wave products and devices to Google Home via a smart hub gives you access to the Google Assistant ecosystem, which is multifaceted.
For one, the smart speaker eases control of all Z-wave products connected to the hub and makes home automation a breeze, thanks to its voice-activated-commands feature. Secondly, you can link several Google Nest and Google Home speakers together, creating a multi-room audio system wherein you can control your Z-wave devices from anywhere around your house or even outside.
Thirdly, Google Home, through Google Assistant, allows multiple users. As such, as many as six different people can access the Google network and personalize music playlists and calendars.
Fourthly, Google Assistant is perhaps the hallmark of what artificial intelligence can achieve. Interacting with it every day makes or is bound to make life easier. And its capabilities are immense. For instance, you can have a conversation with the virtual assistant and ask it questions. It'll then scour the internet and answer you accurately. As such, besides controlling the Z-wave devices, Google Home can enhance your knowledge of the world.
All in all, you can use Z-wave devices with Google Home by linking them via a smart hub. In a sense, therefore, the smart hub acts as a bridge.