Keep a Remote Eye on Your Home Door with Z-Wave
Z-Wave is a thriving yet very popular technology because of its durable ability to protect your home or office from a distance. It has proven itself effective over long wires for security purpose. The key component of this technology is the sensor that triggers events for alerting or taking actions upon sensing an unfavorable incidence in the detectable range. In case of doors and windows, the wireless sensors are responsible for activating alarms or switching on lights when they are left opened.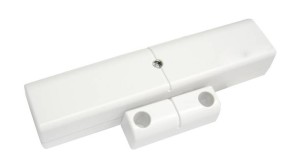 Introduction to the Door Sensor
The Z-Wave door sensor is a part of the smart home automation for ensuring security by triggering the 'on' mode of technology-controlled lights and/or the 'sound' mode of an alarm. A signal is instantly sent to the connected light or alarm when the sensor's two halves are separated. Because such a sensor is powered by a battery and has a range of around 30 meters or 100 feet, it is effective on any exterior door to notify you of a burglary. Further, these sensors are always a part of the wireless automation system due to which it makes it almost impossible for a burglar to overcome or defeat then.
The Z-Wave door sensor offers you with the relevant information about whether a door is open or closed. It features two components namely, a magnetic section and a main unit. While one of these parts is mounted on the moving area of the door, the other is affixed to the frame. It is possible to install the sensors with the help of double sided tape or screws.
About Battery Maintenance and Controlling the Sensor
Although powered by a battery, the sensor remains in a dormant state until a motion or action is sensed. Once you program the device by specifying its sleeping time, it is bound to wake up for sending you a status message. After sending this message, the device goes back to its dormant or sleeping mode.
You can easily charge the two batteries without detaching the sensor-based device from the door. However, just like in case of other electronic items, the batteries are not going to last forever. There will be a time when you need to replace the batteries. This is indicated when the device sends you a visual warning after which the same warning is also sent to the Z-Wave controller. The information is sent to a controller or any connected Z-Wave device, and that the sensor-based device can control up to four devices.
It goes without saying that you will have to use a remote control such as a Z-Wave controller for allowing the sensor to be a part of your established Z-Wave network. For configuring a few behaviors, you will also need a static controller like a gateway or a PC with home automation tool.
In short, it is extremely easy to add, set up, and use a Z-Wave door sensor in your home or office. So, why not take it up as a DIY job, which is truly a fun learning task?
Z-Wave door sensors selected for you
To make your life easier, we have selected the best Z-Wave door sensors for you. The door sensors are directly available for shipping. Click on the image or text for more information. We also indicated whether used door sensors are available, which will save you a couple of dollars.