Today we are reviewing the Shelly flood sensor. A flood sensor is a sensor to detect water leakage. This may be very useful in situations where water can cause some serious damages to your property. Fortunately Shelly has a very nice WiFi based product on the market to help you solve this issue.
Although this sensor uses Wifi it can still be perfectly used in conjunction with z-wave products. If you are looking for z-wave flood sensors specifically please visit our z-wave flood sensors page.
Features
Let start the review by looking at the features of the Shelly flood. This little sensor has quite a bit of features. packed inside.
Wireless technology and wire free
The Shelly flood sensor is completely wireless. Which means you do not have to connect it to main voltage in order to use it. Which is a good thing considering you will most likely use it in an area where water can flood.
Shelly cloud app, and remote control
Due to the SHelly cloud app you can monitor your flood sensor anywhere in the world. The app also allows you to update your sensors, and check its entire status.
Temperature control
The Shelly flood sensor also has a temperature sensor on board. Which allow you to monitor the temperature in the room where you have place the Shelly flood.
Battery life
According to Shelly the battery of this sensor can last up to 18 months. We at ZwaveGuide have not yet tested this. But 18 months on a 3.3v is quite impressive!
Setup and installation of the sensor
The setup of the sensor is pretty straight forward. You just twist the top of the flood sensor and press the setup button inside. This will put the sensor into setup mode for 3 minutes. You can then use the Shelly app and follow the instructions to connect it to your Shelly account.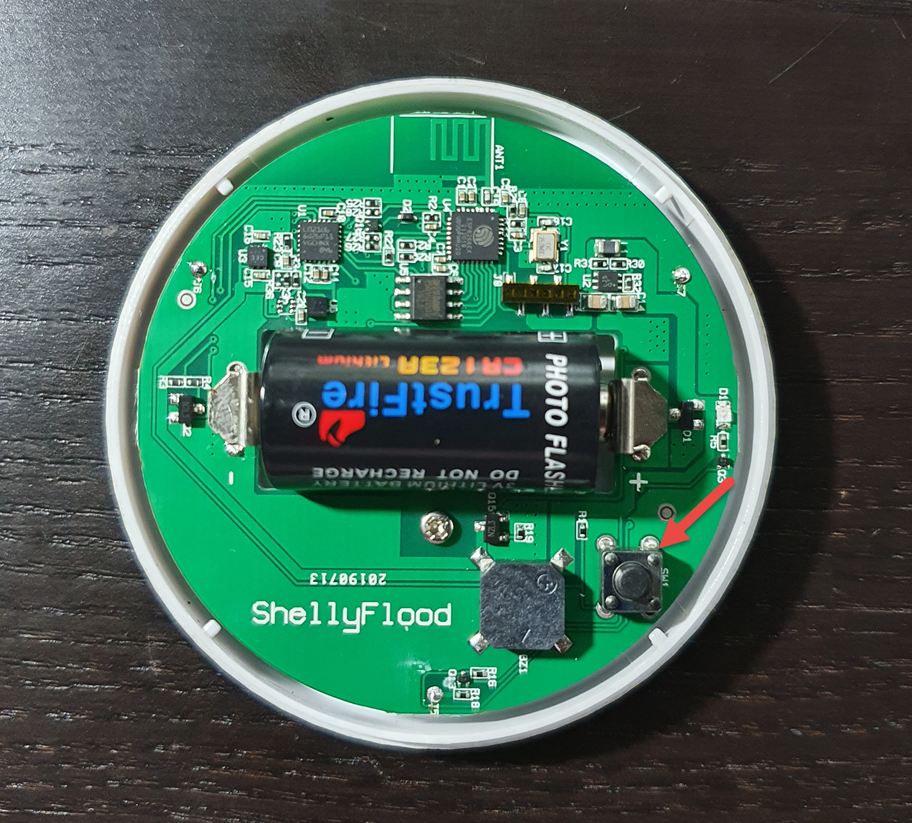 Usage of the sensor
There is not a lot we can say about actually using the sensor. That means the sensor should work for you instead. We have tested the flood sensor using some water in the video below:
After the flood has been detected, the shelly app will prompt you with an alert. Also an e-mail will be send out to you.
Sensor updates
Because the sensor is part of the Shelly ecosystem you get regular updates for your sensor. Updating the sensor is quite easy. You can just do it inside the Shelly app. In the screenshot below you can see a indication of the firmware update. Just click this button and the Shelly software will take care of the rest!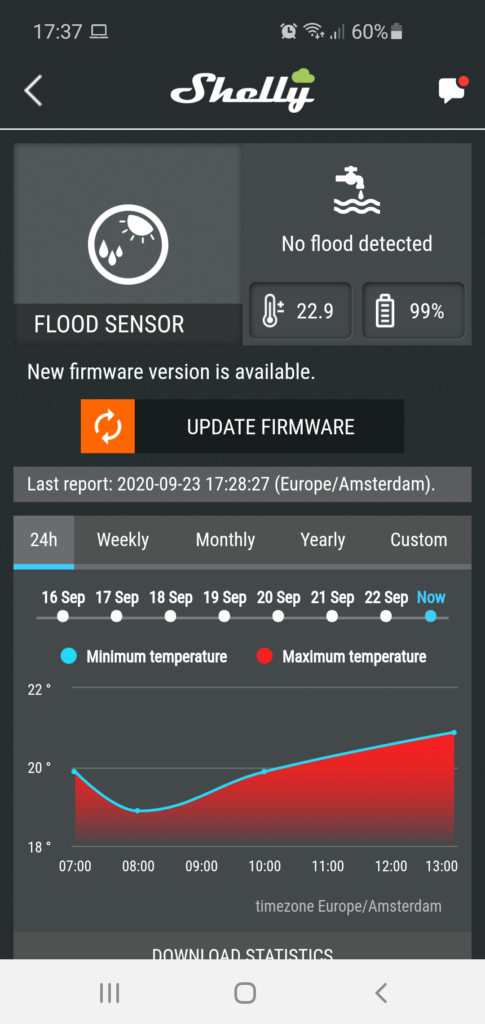 Conclusion
With this flood sensor, Shelly has put a very nice product in the market. Which does exactly what you would expect from a flood sensor. It detects water flood in unwanted places. This may be ideal next to your washing machine, in your basement or several other places where water flood might be a concern.