Are you looking for an affordable thermostat that can communicate with Honeywell BRIDGE and Z-Wave network devices? If yes, then the Honeywell ZWSTAT thermostat exclusively made for the Z-Wave network can be your best option. While Honeywell is a premium HVAC brand, Z-Wave is a leading one in home automation. It is obvious that the blend of two is likely to bring outstanding performance in the most customized way.
Usage
Compatible with all Z-Wave products, The ZWSTAT is also termed as Honeywell TH8320ZW1000. Nevertheless, this model is integrated with the BRIDGE (5800Z) to work with the security system of your home for automatic energy control. When you equip the security system well to work optimally while you are away, the bridge becomes capable of transmitting a command to this Honeywell thermostat to change the temperature such that the heater or air conditioner do not operate when no one is at home.
Once you are at home and take the control of the security system, the ZWSTAT thermostat switches your HVAC devices 'ON' to maintain a comfortable level of temperature. The most adorable part of this thermostat is that its well programming ability for seven days can save around 33% of the annual power bill.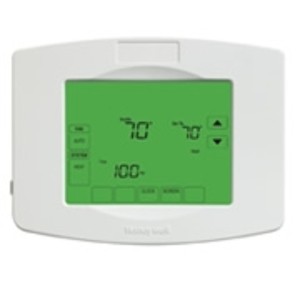 Salient Features
The most admirable feature of this ZWSTAT thermostat is the adaptive intelligent recovery due to which the device senses the time taken for the HVAC devices to reach up to the set temperatures. This ensures that the temperature is attained at the scheduled time in case you prefer scheduled program. It is also possible to set minimum and maximum temperature limits, which enables the thermostat to prevent devices from getting too cold or hot.
Further, the thermostat comes with a keypad lock through which you can inhibit unwanted people from playing with it, such as mischievous employees at office and kids at home. The device is also capable of alerting you when air filters, pads, and filters (of humidifiers/dehumidifiers) need replacement or cleaning. Because of this alert, it becomes easy to ensure that the HVAC system is running at optimal performance while preserving energy as much as possible.
The ZWSTAT thermostat is also able to change between heating and cooling automatically as per the home's temperature. This means you do not have to change the temperature of the thermostat manually with the change in ambient temperature. Last but not the least; the air circulation feature circulates air throughout your office or home when the heater or air conditioner or heater is off, which simply saves much power as well as avert cold and hot spots.
Other features include real-time clock for daylight savings and management during power outage, single- and multiple- stage cooling/heating, programmable fan, several hold options, and energy saving mode. Above all, you can access all these features from the menu-driven touch screen.
Pros
Sleek design
Quick and easy navigation from the screen
Diverse options for customized setup
Acts as a good guide for programming
Power efficiency
Cons
Incompatible with electric baseboard heat
Conclusion
A handy, branded thermostat for both office and home available with best features and at best price.
You can buy the thermostat at a discount price by clicking here:
[AMAZONPRODUCTS asin="B006LO78OA"]